I (Major Moma) am reading Tim Gunn's book
The Fashion Bible
(affiliate link) and am quite enjoying learning the history behind the garments we wear today. So in the spirit of Mr. Gunn's book, I thought I would share a little history about a style of top I am making for Abi's Back-to-School wardrobe.
Tee shirts are an absolute must for today's wardrobe but I think they can look sloppy or boring so I love it when I can find a tee that has some fun shape to it. And the "dolman" shirt is perfect for adding that little something special to a basic tee. Also, the cut is quite comfortable so there is no sacrifice for fashion!
Wikapedia
traces the origins of the Doman to Turkish court clothing and describes a woman's dolman top as "
A
dolman sleeve
is a sleeve set into a very low
armscye
; in fact, the armscye may extend to the waistline, in which case there will be no underarm seam in the blouse. Dolman sleeves were very popular in ladies clothing during the Civil War. They returned to popular fashion in the mid 1980s with dolman sleeves on acid and stone-washed denim jackets geared towards teenage boys and girls. They had the effect of making the shoulders look sloped therefore minimizing the appearance of the waist."
I am guessing that it is the '80s fashion revival that has brought the dolman back on trend for us today. See! there was some good fashion in the '80s!
If you are not as interested in the history of fashion but need to know what makes a dolman sleeve a dolman, Dictionary.com has a much less illuminating
description
:
noun
1.
a
sleeve
tapered
from
a
very
large
armhole
to
fit
closely
at
the
wrist,
used
on
women's
garments.
A short sleeve version of this top is wonderfully simple because the sleeve is cut onto the front and back. What that means is that there are only two pieces to the pattern! (unless you opt for binding the neckline)
The longer sleeve version has a sleeve that attaches to that dropped shoulder and is quite fitted on the arm while the under arm is left loose and breezy.
There are two dolman sleeve patterns on my cutting table right now; Shwin & Shwin's
Day Tripper
top and Jaile's
3352
. But there are other options if you want to sew this style for your tween.
A pattern I have not tried but have seen good things written about is the Carlie by EYMM. It comes in sizes into the high tweens/teens and has a trendy high/low thing going on too.
Pattern's for Pirates has a woman's dolman called the
Pumpkin Spice
that comes in an XXS that according to the measurements would fit a size 10 or 12 tween girl. This pattern has a couple different design options and if it is as good as the other P4P patterns I have sewn, it is sure to be a winner.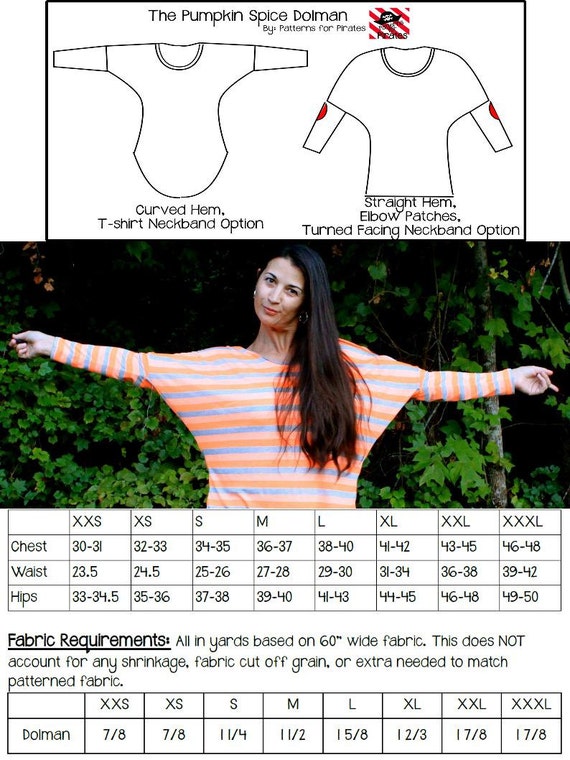 Sew Much Ado has two dolman tops in it's shop. One is for children and only goes up to size 10 and the other is for women and starts at XS. One of these may work for your tween. Check out the measurements and see ...
Jaile's
3352
comes in sizes 2T to 22 Woman's. So this is a pattern that can really fit all the girls/ladies in your family.
The
Day Tripper
also is not a children's pattern. It is designed for women but the XS is an option for the older tweens. (Plus, you can sew one up for you too just to make the purchase worth it, right?)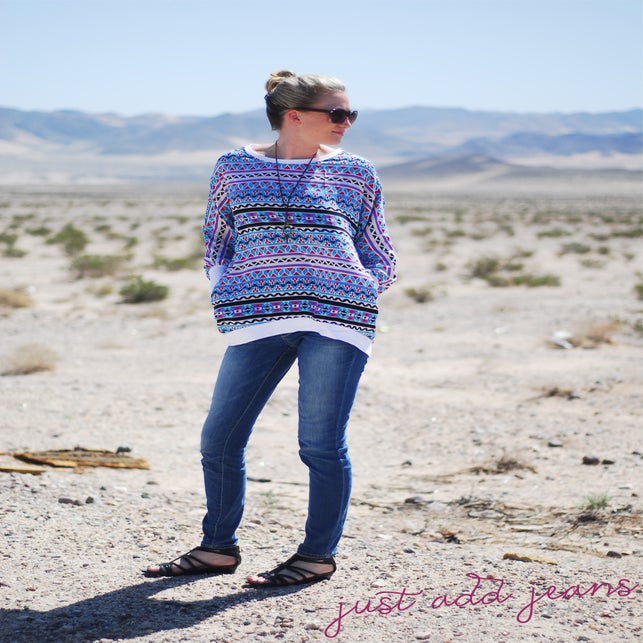 And finally, if you are more of a Draft-it-Yourself gal or simply don't have the cash to spend on one more pattern during the school buying frenzy,
Becca's Creative Notions has a tutorial
on how to use your normal tee-shirt pattern to draft a dolman sleeve tee-shirt.
Sooo,,. Would your tween wear a dolman top?