Today I am reviewing a
Peek-a-boo
pattern that has variations for boys and girls. The Boardwalk Henley/Hoodie. I have sewn a couple for my son who loves his. I have blogged about them at Without Directions
HERE
.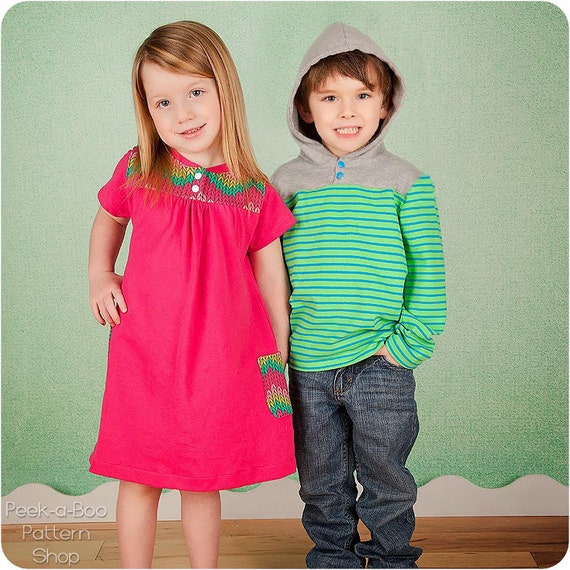 Name of the pattern: Boardwalk Henley/Hoodie
Pattern Source
: It can be bought at the
Peek-a-boo
pattern shop as a .pdf downloadable file. (affiliate link)
Sizes available: The Henley comes in a whole wide range of sizes from 3 months to 12 years.
Special materials required
: The pattern calls for knit fabric but I have made versions with a woven for the hood. The button placket makes a stretchy neckline unnecessary so you are safe to use a woven at that part. Which brings me to the other special material ... buttons/snaps; you will need two.
Skill level required
: This pattern is super easy and if you are a beginner sewer, please feel free to take this project on. If you have never sewn a button, I think this is a great project to start. I highly recommend that you do not skip interfacing the placket in order to keep it stable when sewing the button holes.
How you came to choose the pattern
: My church was having a Christmas Eve service where the children were invited to dress as their favorite nativity character. My 3 year old was an angel, the 6 year old a shepherd, and the 11 year old (she just had a birthday) a sheep. I was surprised that she decided to dress up at all, but she still thinks of herself as a little kid and has told me she is not ready to grow up just yet.
So, I decided to make something that can easily be converted to a useful piece for her wardrobe. Not ready for a new purchase I decided on this top and of course, white fleece is the perfect thing to be a sheep. I made some ears and a tail to pin on just for the night.
Did you deviate from the pattern? Yes I did. I used fleece which if you are at all familiar fabric, has no stretch. I counted on my daughter being much thinner than the average 12 year old to buy me some wearing ease that would compensate for the lack of stretch in my fabric choice. I also lined the hood with a satin fabric to keep the static from messing her hair.
Good: The pattern is designed with elements for many ages and both boys and girls. You can add a hood or have a simple henley neckline. I have not yet tried the gathered front or dress version, but they may be coming in the spring and if it does... I will share the results.

Bad: I don't have any complaints. It was a nice easy sew with great details.
Ugly: Nothing.
Overall pattern rating
: 5 out of 5 bolts