Today we have Mona from SewMona giving a review for the Skinny Jean by Peek-a-Boo patterns. This pattern comes in the lower tween sizes, but since good pant patterns are few and far between, we thought we would share.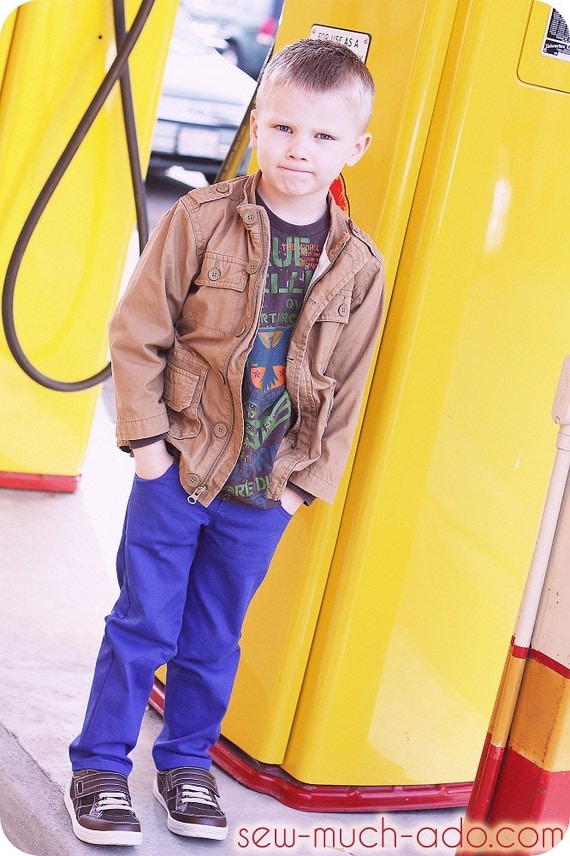 My name is Mona and I blog at
sewmona.com
about sewing, homeschooling, camping, and living in Florida. I also have an
etsy shop
where I sell footie pants. I started sewing for my Barbie dolls when was a little girl around 10 years old. My mom sewed and she taught me. I'm pretty good if I do say so myself. I made my prom dress in 12th grade and four years later, my wedding dress.
Few things have stumped me
. I love making clothes for my kids and occasionally my husband (I can make casual button-up shirts) and myself. I made my first pair of two piece footie pajamas for my daughter when she was about 4. When they wore out, I made her another pair. At that point I realized there might be a market for them, and SewMona was born.
Name of the pattern: Skinny Jeans
Sizes available: 12M – 10 years, 18" doll
Special materials required: Buttonhole elastic if you choose to do an adjustable waist or just regular elastic (you can make your own buttonhole elastic too), a button, denim needle if you're using denim
Skill level required: Some sewing experience helps, but the directions and pictures are excellent. There's also a Facebook group that's very helpful if you get stuck.
How you came to choose the pattern: I was looking for a jean/pants pattern for my kids that wasn't just a basic elastic waist pull-on style. I also didn't want something too complicated! This pattern was just what I was looking for.
Did you deviate from the pattern? If yes, how? The front is low rise, I made it just a little higher (she likes her pants just under her belly button). I also cut them a little long and a little bit bigger all around (I made a size 10) as my daughter seems to be sprouting up!
Good: I love that these look like jeans! Five pockets, a "fly" with a button, the top-stitching. There are so many options here so you can customize the look – adjustable waist or not, belt loops, small pocket in the front pocket, the button can be working or just for looks (mine is just for looks). I also love that all sizes are included in one pattern.
Bad: Even though it's a faux fly, it was still a little confusing to me. After looking at the pictures and a pair of my jeans, it made sense.
Ugly
: Nothing!
Thank you Mona for giving this review! We love to hear new voices and share experiences.