It's 'Design Your Own Fabric' Week over at Project Run and Play, so I thought I'd play along and make Sophia an Easter dress to boot. As for how I designed the fabric, I tried two new things--ombre dying and detailing by sewing down embroidery thread.
The pattern is Simplicity 3510, but it's apparently out of print.
And it only went up to a size 8...but it is a really easy pattern to alter up a size or two.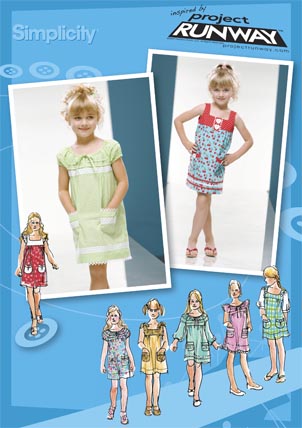 Even so it's a great pattern. Easy to follow instructions and lots of options. If you ever have a chance to get your hands on this pattern, it would be one worth having.
Here's my finished look and you kind of see the ombre a little better. It didn't turn out quite as I envisioned, but I do like it. But what I like the best is the thread detail on the bodice.
As for the pattern, it is an easy sew, with no buttons or zippers. It works great with wovens of any kind and would be a great beginner pattern for someone that wants just a little more detail to follow.
I would give this pattern 5 bolts if it were available...in larger sizes.
As for the changes I made, I added a little to the side seams as well as to the lengths of the bodice and skirt. And to make it a little less "little girl" like I did pleats where it said gathers.
To get the detailing on the top, I first drew out my design with water soluble pen. Then I put a little glue (simple Elmer's) on the line and laid the embroidery thread down. Once it was dried, I just did a small zigzag in a lighter shade of green.
A close up look of the embroidery thread detailing.
I really like it with this vintage orange trim, tied at the waist. She didn't like it so much.