Recently I was given the opportunity test a new pattern that I really did not have time to sew, and it was for something my daughter really did not need.
But, I said yes any way because the pictures looked cute and this pattern goes up to size 16! I thought, if this is a good one, I know those that read Sew Cool should know about it. And if you read to the end of the review, you will see that there is an extra treat for you all too.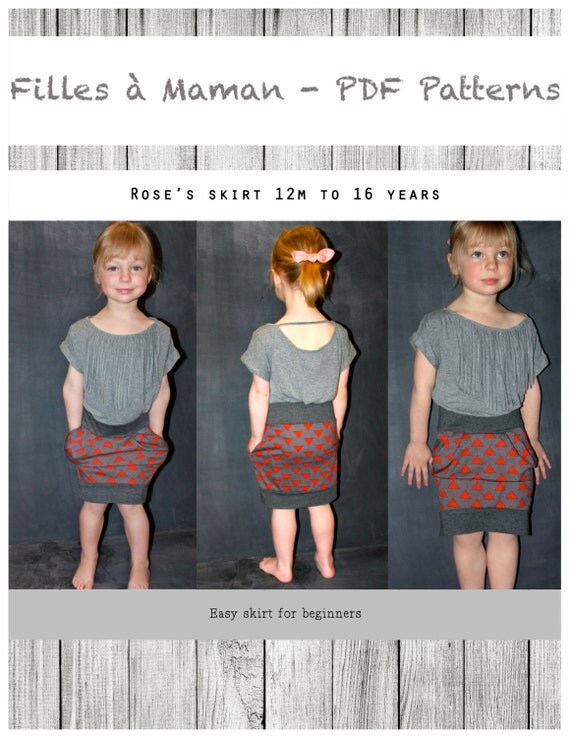 The
Rose Skirt
by
Filles a Maman
is a basic knit skirt with some great pleating details in the front.
The pattern is available via PDF at
Filles a Maman's etsy store
and sells for $9. You can purchase this pattern in English or French.
Sizes available: It is available in sizes 12 months to 16 girls so this is a pattern that could fit just about any girl in your life.
Special materials required: For best results, you should use a medium to heavy weight knit for this skirt. But, I have seen some bloggers sew it up in a woven fabric with lots of success. There is elastic in the waist band and you should have a 1 1/2 or 2 inch wide elastic. I used a one inch wide elastic because that is what I had on hand, but I know a wider elastic would be better.
Skill level required: A complete beginner could complete this skirt. It is a fast sew and not complicated in the slightest. The instructions told me to set the pleats and sew the pocket in a way I was not used to and I started to second guess the pattern. But, since I was testing, I felt obligated to complete it as instructed. Guess what, the instructions made it look perfect. Imagine that.
The only changes I made to the pattern is that I cut out a size 10 for the width and a size 12 for the length to accommodate the shape of my girl. I also cut the elastic to fit her waist size instead of the recommend length. This worked out great for her.
Good: This is a very trendy looking and comfortable skirt. My daughter wasted no time in finding an occasion to wear it.
Bad: As I was sewing the pleats and the pockets, I was concerned that it would be too bulky in the front with all the layers of fabric. My worries were unfounded and the front hangs nicely. However, if you are using a bulky knit fabric, you may need to be careful about bulk. But again, I may be worrying for no reason.
Overall pattern rating
: I really liked this pattern but I am not sure how many times I will sew it up. It is cute and trendy which made it a winner for my daughter. It also only took a couple hours to sew and would be a great last minute project. I give it
(4) bolts.
Just so you know, the skirt waistband sits on the natural waist. I think that is lovely for this style but my daughter found it to be odd. She is used to pants that have a mid rise (waist band at her belly button) and was uncomfortable with this waist band sitting so high. I am sure she will just pull it down lower, and that is just fine with me.
And guess what??? Filles a Maman was kind enough to give us a discount code for any pattern in her shop! If you are interested in this skirt or any of her other patterns just use the coupon code
BLOG10
for a 10% on everything on the
ETSY shop
.