I recently had the chance to pattern test an entire mini collection by
Jennuine Designs.
The Haven Acres mini collection is inspired by equestrian clothing and consists of leggings, blouse, and a hat. Jennuine Designs is ran by
Jennifer
and most of her designs are for the younger set.
Until recently, Jennuine Designs only carried patterns up to size 8. But much to our delight, Jenn has been working hard this spring to add patterns designed for tween sizes and I really want to commend Jennifer's dedication to making this collection work for older girls.
Name of the pattern:
There are three pieces to this collection;
Haven Acres Blouse
,
Dressage Leggings
, and
Sweet Pea Cap
. The top is a lovely peplum blouse designed for woven fabrics. It has a single button closure and elastic at the waist. The leggings are inspired by riding pants and have an insert in the inner portion of the legs. The legging pattern also comes with a standard version without the insert (like two patterns in one!). And then there is a sweet riding hat with little ears on it. I have to be honest here, even though this hat is sized so that most tweens could fit it, they may not want it. Abi thought it was very cute, but she did not see herself wearing it. (But one time she did leave the house in it and someone did give her a compliment.) My four year old did love it though depending on who else lives at your house, it may be worth the purchase.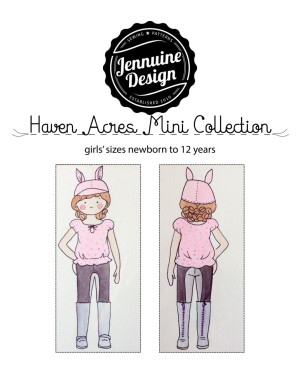 Pattern Source
: You can buy all of these patterns at Jennuine designs individually (I have links in the above paragraph for each garment.) or as a
bundle
. If your girl is likes 18 inch dolls, she also has matching doll versions of these patterns available.

Special materials required: For the top, just about any woven would work great and you will also need bias tape (home made or purchased), 1/4 and 1/8 inch elastic, and a button (optional). The leggings need knit fabric but the inner portion can be successful with a stretch denim or similar fabric if the outer leg is sufficiently stretchy. And finally the cap needs an outer fabric, a lining and super stiff interfacing for the brim. Some people used flexible cutting boards and I used an old plastic place mat instead and that worked great.
Skill level required
: The top is easy but the hat and leggings require a little (not a lot) of skill. The inserts in the leggings require some easing, so I would not pick this for my first knit project. But, it is not that hard and a confident beginner could tackle them with success. The hat is not complicated, but it does require accurate and straight sewing. So again, not a project for first time sewers but with a few garments under your belt you will do just fine.
I did deviate from the pattern a couple times for the blouse. The keyhole opening is designed to be in the front and either button or tie closed at the neckline. However, my daughter is very self conscious about her newly required undergarments and strongly objected to the key hole. So, I moved it to the back and made it a little smaller. This adjustment was super easy and did not effect the fit of the top. Also, on the below version I opted to not use elastic on the sleeves.
One tip is to carefully measure your child and cut the size accordingly. My girl wears a twelve for length but I cut an eight for width. This is a bit tricky for the inserts but it worked out great for the fit. I gave her a little more width right at the rear end because she needed it there. So, as always, sew the size and shape your tween needs.

Good: The pattern instructions were very clear and easy to follow. There were colored pictures and lots of diagrams. She writes clearly and I did not have to read the instructions over and over. I love the style of the Dressage leggings. The fit was excellent and I think there are lots of fun ways you could use color blocking or mixing of textures with this pattern. We decided on one with bright colors and one that had a navy knit on the outside and navy stretch denim on the inside. She wears the navy ones quite frequently.
Bad
: Abi is not a big fan of the placement of the elastic on the top. I think she would prefer it to be lower and we both would like the top to be longer. These are easy adjustments and are a matter of taste though.