We just hit our one year mark here at Sew Cool for the Tween Scene and to celebrate we asked some of our favorite bloggers, that sew for tweens, to tell us about their favorite pattern for tweens. First up, Stacy from
The Land of KA
.
~~~~~~~~~~~~~~~~~~~~~~~~~~~~~~~~~~~~~~~~~~~~~~~~~~~~~~~~~~~~~~~~~
I am happy to be here today for the one year anniversary for Sew Cool For the Tween Scene. I was overjoyed when these ladies started this blog, since it is rare to see sewing bloggers sew for their older children.
I tend to make a lot of my own patterns for my tween, but one pattern that I used this summer was
The Breeze Top by Peaches and Peanuts
. It is so fun in that you can use woven or knit and mix and match patterns to get a unique style. My daughter loves this top, and so do her friends, which in the
big picture
is what you want when sewing for a little person that has their own opinion.
Here is the top, where
I actually doubled up the bottom with a stretch lace and white knit
.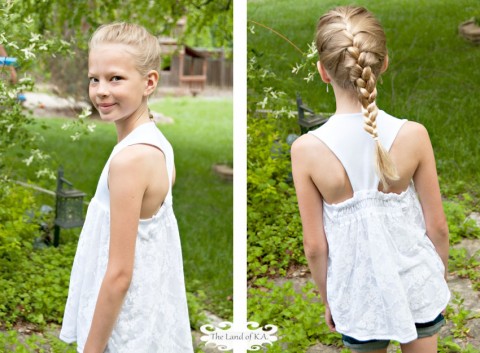 This is another version of the top,
where I simply extended the front piece, and made a quick facing
.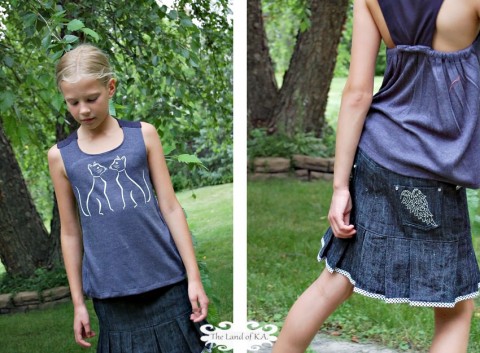 I find that adding embellishments are pretty important, too. She loves the shirt with the kitties on it, which is iron-on vinyl.
Happy sewing!